Ah, the joys of summer vacation when the kids are home and family meals must be quick, easy, and satisfying. As mothers, we understand the importance of providing healthy options for the whole family. With that said, Queso Mama is here to share some delightful and nutritious queso meal ideas that can be whipped up in 20 minutes or less.
For breakfast, how about starting the day with a Queso Breakfast Wrap? Cook your breakfast sausage, sauté some colorful bell peppers and onions, and warm up a tortilla. Spread a layer of creamy Queso Mama White Queso with diced green chiles on the tortilla, add the sausage and mixture of bell peppers and onions, then roll it up. This delicious wrap is packed with protein and veggies to energize your family for the day ahead.
View this post on Instagram
For a quick and healthy lunch option, consider a Queso Chicken Salad. Grill or bake chicken breasts until cooked, then slice them into strips. Toss the chicken with mixed greens, cherry tomatoes, avocado slices, and a light dressing. Finish it off by drizzling some warm Queso Mama White Queso that's gluten-free on top for a creamy and flavorful touch. It's a refreshing and satisfying lunch that's ready in no time.
When it comes to dinner, a keto-friendly roasted chicken with queso is a family-friendly option. This meal gives you the best of two worlds…gluten-free and keto! Coat the bottom of a roasting pan with chicken broth, and remember to bast the chicken with juices while it cooks. Before serving your family, put a generous amount of your favorite variety of Queso Mama in a bowl based on your queso-meter. It's a nutritious and delicious twist on chicken that the whole family will love.
View this post on Instagram
If you're looking for a quick and easy side dish, Queso Mama Cheesy New Potatoes is a winner. In a covered pot, bring new potatoes and salt to a boil. Potatoes should be cooked until they are fork tender, then drain the water. Before serving, heat Queso Mama White Queso in a microwave until warm. Pour warm queso over the potatoes for a cheesy and irresistible twist.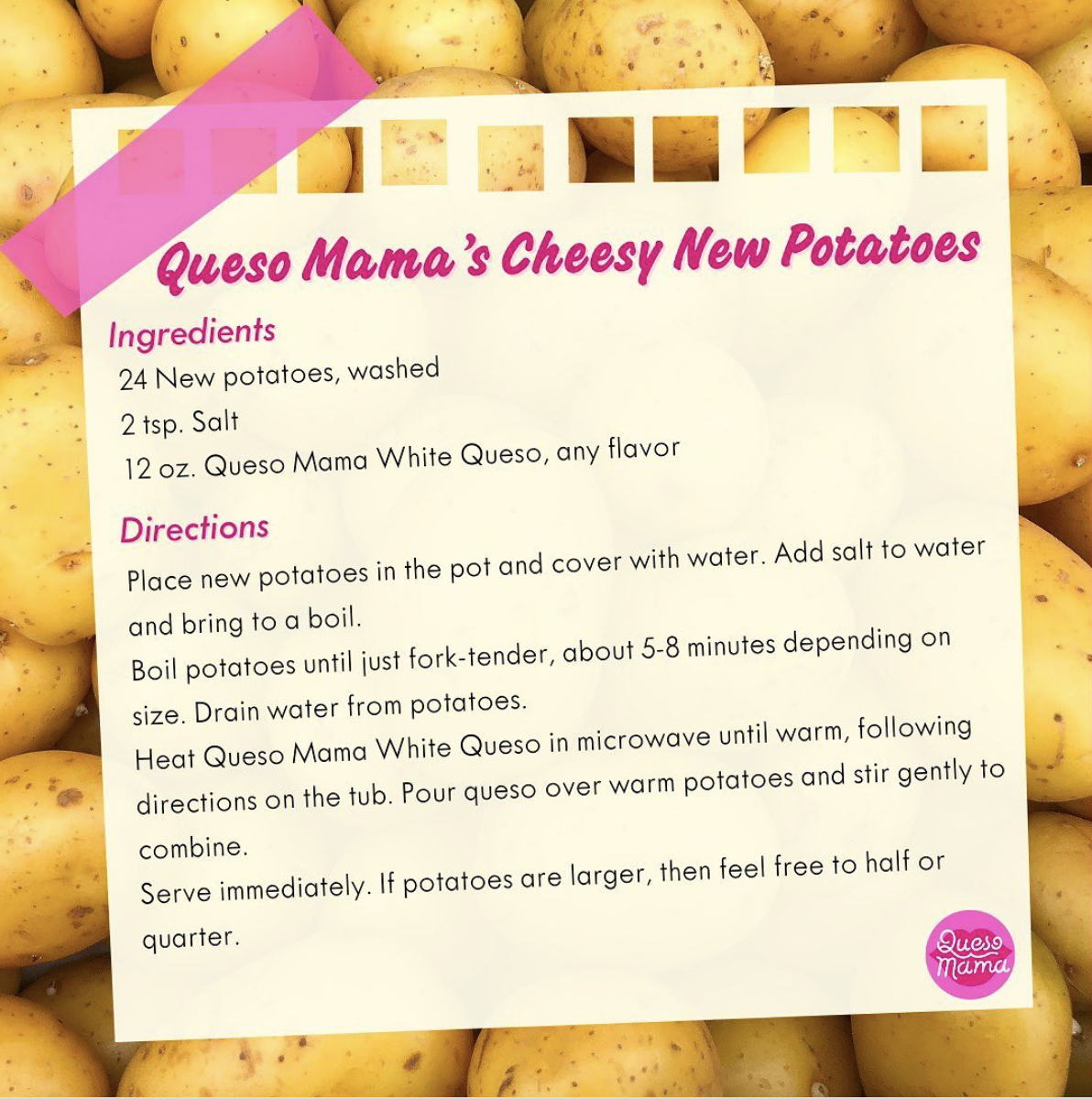 And indulge in a queso fruit dip for a sweet ending to the day. Mix Greek yogurt, a touch of honey, and a dollop of creamy Queso Mama White Queso in a bowl. Serve the dip with a platter of fresh fruit slices like strawberries, melon, and pineapple. It's a healthy and delightful treat that satisfies your family's sweet cravings.
With these quick and healthy queso meal options, you can keep your family well-fed and bring fun food to the table throughout the summer. Remember, it's all about finding that balance between convenience and nutrition. Enjoy the simplicity of these meals, and savor the precious moments spent together as a family.
Wishing you a summer filled with delicious meals and unforgettable memories while sharing a table!