Get the Party Started with Queso Mama!
Queso Mama is meant to be shared with friends, family and fellow foodies, but that doesn't mean that you can't just have a party of one! When you pour out a piping hot helping of our queso, you can rest assured that it's made with the highest quality ingredients. It's also gluten free and vegetarian, so if your guest list includes those with dietary restrictions, you're covered! Queso Mama also goes with just about anything. If you have family that pops in for a visit, don't worry, just grab a bag of chips or some vegetables and you've got a real crowdpleaser!
Need more heat? Behold…the Ques-O-Meter!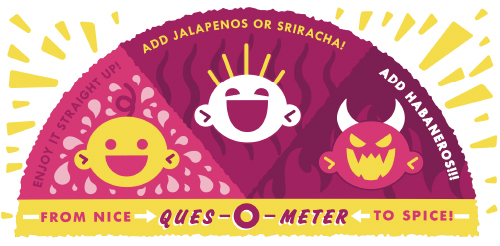 Queso Mama Top 5
If you're ready to Netflix and chill, heat up a bowl of Queso Mama and enjoy our top five shows and movies that we love.
• Ugly Delicious with James Beard Award-winning chef David Chang
• School – Of – Chocolate with Pastry chef Amaury Guichon and his amazing chocolate creations
• Otherhood – because love a good mom movie!
• The Great British Baking Show
• RV with Robin Williams if you want to laugh!
Join Us on Social Media!
Quick Tip
Just place Queso Mama in a microwavable bowl and heat on medium, stirring every 45 seconds until fully heated through. Pour over your favorite tortilla chips and serve. Add toppings if desired.