Steak Nachos with Black Beans and Roasted Corn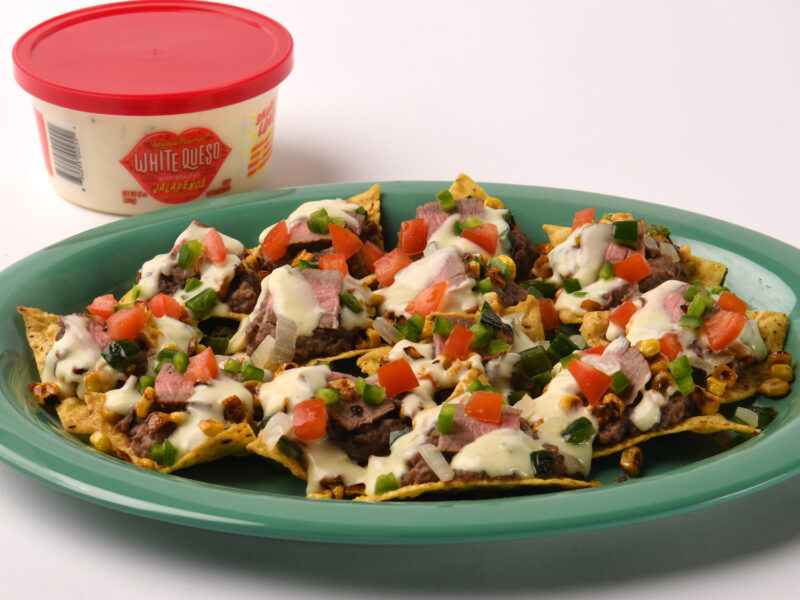 Save to BigOven
Ingredients
1 Tablespoon plus 1 teaspoon vegetable oil
1 Cup chopped poblano pepper
1 Cup chopped onion
2 Ears of fresh corn, kernels removed
6 Ounces sirloin, flap steak or rib eye, sliced into strips and then cut into bites
½ Cup your favorite bbq sauce
1 Can refried black beans
6 Ounces tortilla chips
12 Ounces Queso Mama White Queso, any flavor
Garnish: Guacamole, chopped tomatoes, chopped jalapenos
Instructions
Heat one tablespoon oil in a large skillet over medium-high heat. Add peppers and onions and sauté for about 4 minutes, until tender. Remove peppers and onions from skillet and set aside.
Add one teaspoon of oil to skillet. Add corn and stir until corn starts to brown around edges. Remove and set aside.
Baste steak with bbq sauce. Grill to medium-rare, about 4 minutes, basting again at finish.
Heat refried beans in microwave until warmed throughout, about 2 minutes, stirring once.
Arrange chips on serving platter and top each with a dollop of refried beans and a slice of steak. Drizzle with Queso Mama White Queso and sprinkle with roasted corn kernels. Garnish as desired and serve immediately.