Taco Rice with Queso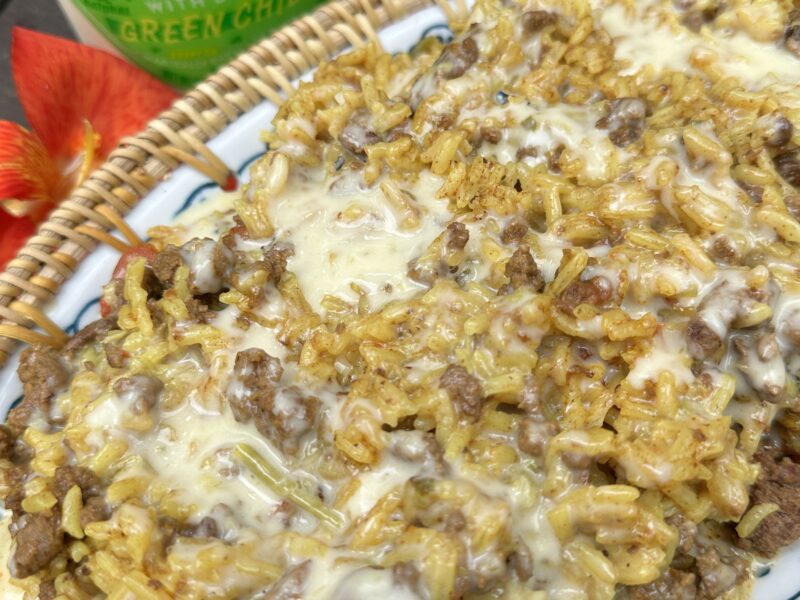 Save to BigOven
Ingredients
1 lb. Ground Beef
1 oz. pkg Taco Seasoning
1/2 cup Salsa or diced Tomatoes
10 oz. pkg Yellow Rice (sub 1-1/2 cups White Rice)
3 -1/2 cups Water or Chicken Broth
Salt and pepper as desired
1 cup Queso Mama White Queso
Instructions
In a large skillet, cook ground beef on medium high heat until thoroughly cooked. Drain excess oil.
Add Taco Seasoning and stir.
Add salsa/tomatoes and rice and stir to incorporate.
Pour water into the pan, stir and bring to a boil.
Once the water boils, turn the heat to simmer and cook 20-25 minutes until the rice is tender and the water has been absorbed. Place in a serving dish or serve directly in the pan.
In a microwave safe bowl, heat Queso Mama for 60 seconds. Stir and spoon over the Taco Rice.
ATTENTION COSTCO MEMBERS: If Queso Mama was previously available at your location and you'd like to help bring it back, please visit www.costco.com and click on the "FEEDBACK" button found on the right side of the page. If you're on a mobile device, scroll to the very bottom of the page for the Feedback link.  Feedback can also be provided IN-STORE via the Member Feedback Cards that can be found at the front of the warehouse by the register area. Your feedback matters, so please let Costco know that you want Queso Mama back!!