Baked Chicken Queso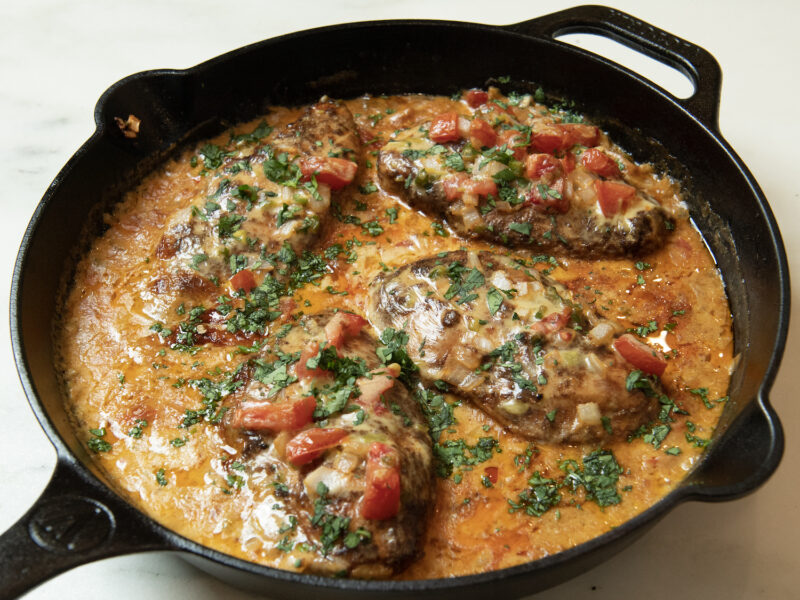 Save to BigOven
Ingredients
4 chicken breasts (about 2 lbs total), boneless and skinless
2 Tablespoons olive oil, divided
1 package taco seasoning
1 medium onion, finely chopped
1 medium tomato, diced
1 fresh jalapeno, diced (remove seeds for less heat)
2 cups Queso Mama
1 Tablespoon cilantro (for garnish)
Instructions
Preheat oven to 400 degrees F.
In a large Ziploc bag, toss chicken breasts with 1 Tablespoon olive oil and the taco seasoning mix. Remove air from bag and seal. Marinate at least 15 minutes and up to 8 hours.
When ready to cook, heat the remaining 1 Tablespoon olive oil in a large cast-iron skillet for 2 minutes over medium-high heat until the hot oil sizzles.
Sear the chicken breasts until nicely browned on both sides, about 4-5 minutes on each side. Once done, transfer onto a plate to keep warm.
In the same skillet, add onion, tomato, and jalapeño and sauté 2 minutes.
Return the chicken to the skillet and top with sautéed onion and tomato.
Spread Queso Mama evenly over each chicken breast.
Bake on the top rack of the oven for 20-25 minutes until fully cooked through and Queso Mama is bubbly and starting to brown.
Use an instant-read thermometer to make sure chicken is 165 degrees.
Garnish with fresh cilantro and serve.