Halloween Taco Pizza
Recipe By: Jessica Hergert - Auburn, Washington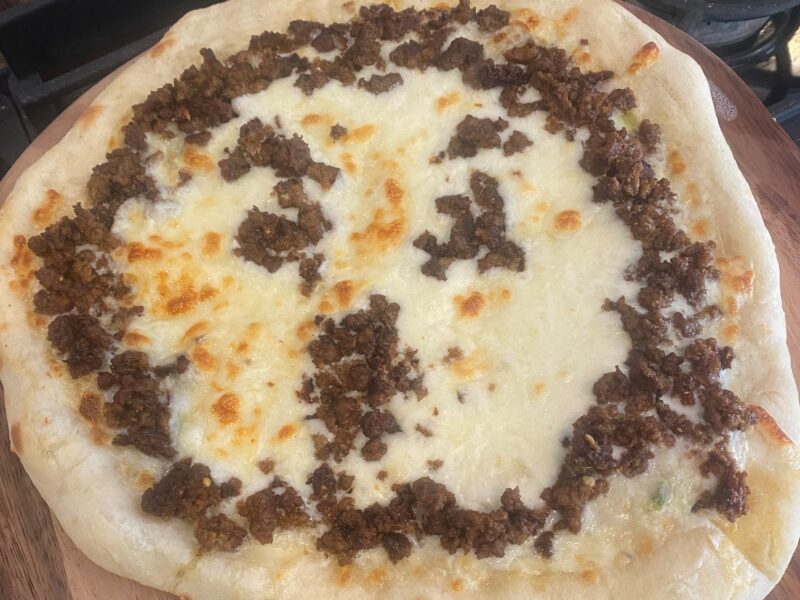 Save to BigOven
Ingredients
1 cup queso mama
1 package pizza dough (10 ounces)
1 cup mozzarella cheese
1/2 lb ground beef
1/8 cup taco seasoning
1/8 cup water
Parchment paper
Something to cook pizza on( pizza steel/stone)
Instructions
Let dough rest at room temperature until ready to stretch (1-2 hrs)
Preheat oven as high as it will go 500-550 degrees for at least 30 min
Cook 1/2 lb ground beef
Brown beef
Drain fat
Add taco seasoning
Add 1/8 cup taco seasoning
Add 1/8 cup water
Cover pan with lid bring to boil, once boiled - let simmer for 5 min
Stretch pizza dough 10-14 in
Put pizza dough on lightly floured parchment paper on pizza stone or pizza steel
Bake for 2 min til pizza is slightly cooked
Pull out of oven
Spread queso mama sauce on pizza
Spread mozzarella cheese
Add taco meat
After pre-baking pizza and adding toppings, put back in oven for 3 minutes.
After 3 min check pizza to see if it's done by lifting the bottom of the pizza and looking for brown spots (leopard spots) and make sure crust is crispy and toppings are cooked thoroughly
Lastly but not least, enjoy!!
Recipe has not been tested. Recipe has been posted as submitted.
If you would like to share a recipe to appear on our website, please CLICK HERE.