Keto-Friendly Air Fryer Fish Tacos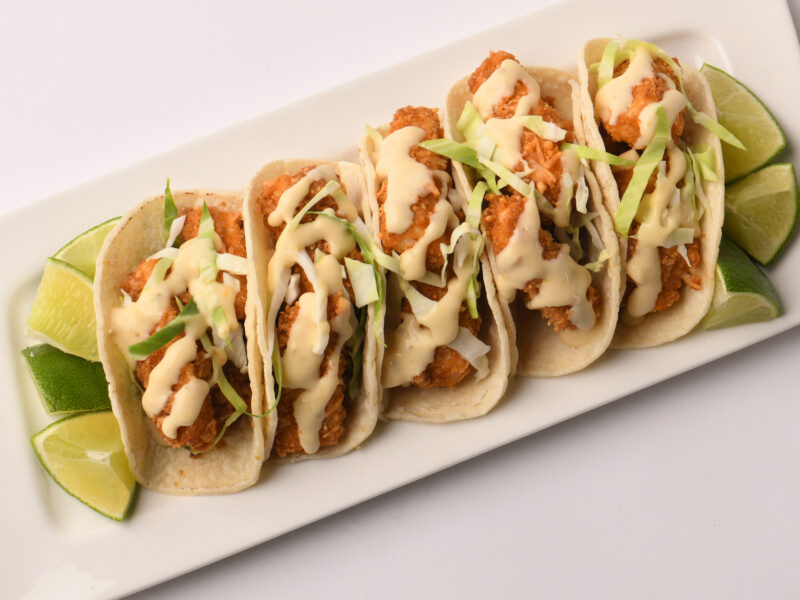 Save to BigOven
Ingredients
14 ounces tilapia loins or filets, cut into 16 fish-stick sized pieces
16 mini low-carb "street taco" sized tortillas
¼ cup mayonnaise
1 cup crushed pork rinds to make "bread crumbs"
½ cup parmesan cheese, grated
½ teaspoon chili powder
½ teaspoon garlic powder
¼ teaspoon cayenne pepper
Shredded cabbage
½ cup Queso Mama, warmed
Quartered limes
Serving Size
4 mini tacos
Instructions
In a shallow bowl, combine the crushed pork rinds, chili powder, garlic powder, parmesan cheese, and cayenne powder and set aside.
Spread mayo lightly over each piece of tilapia. Then one at a time, coat all sides of each piece of fish with the pork rind mixture and place on a plate. Continue until all the fish is breaded.
Preheat the air fryer for 5 minutes. Then take out the basket and spray with nonstick cooking spray. Gently place the breaded fish into the basket and cook for 10-12 minutes at 380°F until nicely browned and crunchy.
Let cool then place 1 piece of fish into each mini tortilla. Top with shredded cabbage, drizzle with Queso Mama, and squeeze with fresh lime juice. Serve immediately.
Note: If you do not have an air fryer, use a deep skillet to fry fish in hot vegetable oil that is about ½-inch deep in the skillet. Fry until golden brown.