Slow Cooker White Chicken Chili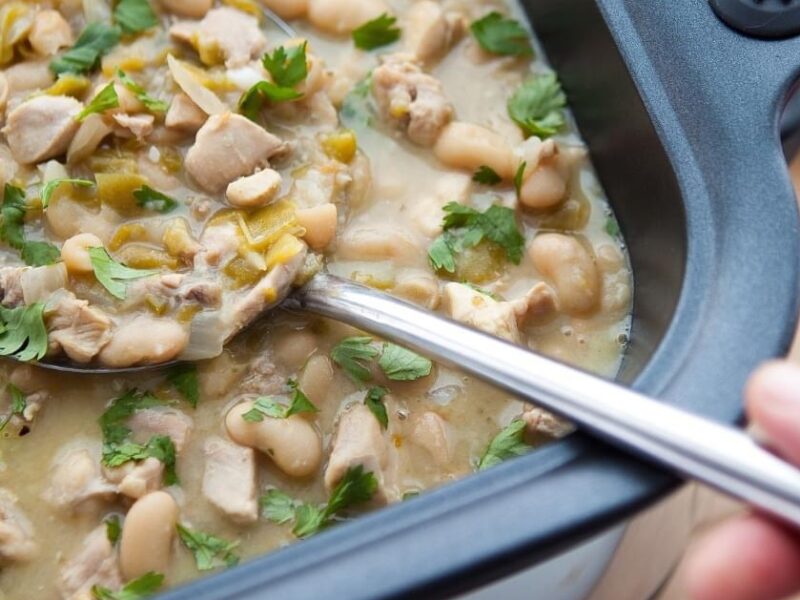 Save to BigOven
Ingredients
1 lb. Raw Boneless, skinless Chicken Breasts
3 cups Salsa
1 1/2 cups Water
1 tsp. Cumin
2 tsp. Chili Powder
1/4 tsp. Salt
2 Bell Peppers, minced (any color)
14 oz. can Corn Kernels, drained
1 fresh Jalapeno Pepper, stemmed, seeded and minced
14 oz. can Black Beans, rinsed and drained
12 oz. Queso Mama White Queso with Green Chiles
Cilantro, for topping (optional)
Instructions
In a slow cooker, place chicken breasts, 1 1/2 cups salsa, water, cumin, chili powder and salt.
Cover and cook on low for 6-7 hours or on high for 3-4 hours.
Using two forks, carefully shred the chicken in the slow cooker.
Heat a large nonstick skillet on medium-high heat. Do not use any oil.
Add the minced bell peppers, corn and jalapeno.
Stir until heated through.
Add to slow cooker, along with black beans, Queso Mama White Queso with Green Chiles, and remaining 1 1/2 cups salsa.
Stir well and replace cover.
Simmer for another 30 minutes until heated through, stirring occasionally.
Garnish with Cilantro if desired.