Taco Pasta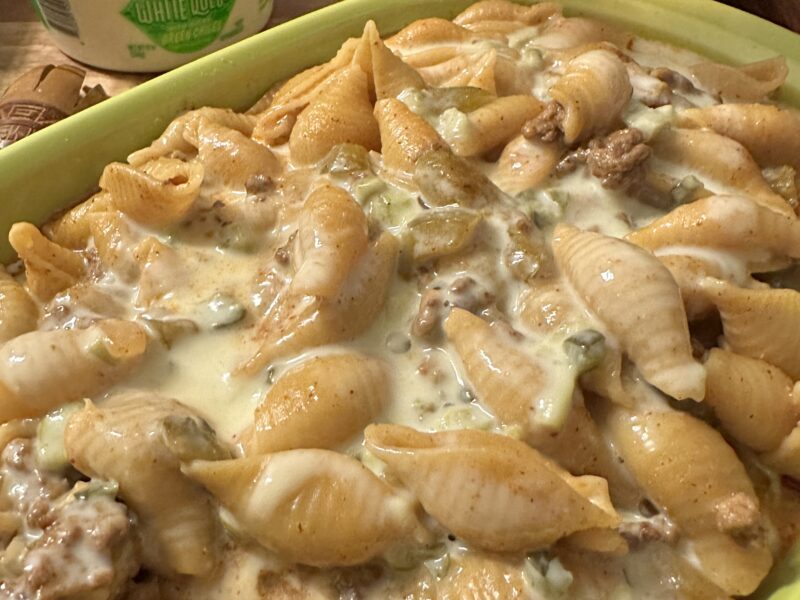 Save to BigOven
Ingredients
1 lb. Ground Beef
3 cups (8 oz.) Medium Pasta Shells, uncooked
1/2 Medium Yellow Onion, diced
1/2 Green Bell Pepper, diced
8 oz. can Tomato Sauce
1 package Taco Seasoning
1 tsp Garlic Powder
4 cups Beef Broth
1 cup Queso Mama queso, any flavor
Salt and Pepper to taste
Instructions
Brown beef over medium heat in a Dutch oven.
Add onions and peppers to the beef. Stir and cook for five minutes.
Drain oil from the pan.
Add pasta shells, taco seasoning, and tomato sauce and stir.
Add beef broth and bring to a boil, then cover with a lid and cook on medium/low heat for about 10 minutes or until shells are tender.
Remove the lid and stir in Queso Mama.
Turn up the heat to medium and cook 5 minutes.
Turn off the heat and let sit for 5 minutes before serving.
Optional: heat one half cup of Queso Mama in the microwave until hot and pour over the whole dish.